Project Baby: Guess the Gender Giveaway!
We will find out the gender of our baby this coming Wednesday night, so to celebrate I'm having Project Project's first ever giveaway!
Naturally, you all want to know what you can win. Naturally, I want to tell you: One lucky winner will get to pick the prize of their choice from the following selection, soon to be lovingly hand-knitted by me.
Behold!
Prize Option 1
As this is a baby-themed giveaway, what prize could be more appropriate than your very own hand-knitted baby?
Prize Option 2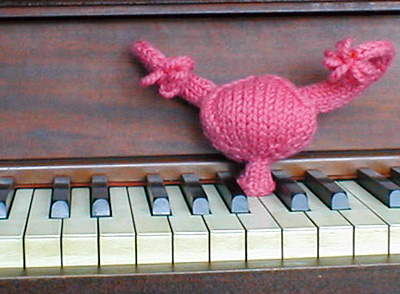 Or, should you be more scientifically minded, I will knit you a uterus, complete with ovaries and fallopian tubes! A womb of one's own!
Prize Option 3
Not too enthused about the whole baby thing? Don't need a uterus just yet? Then option 3 is the one for you: your own little monster to take home and love!
Goodness.
The Rules
Here is how this competition will go down:


The competition is a short one, and will close at

6:30 P.M. MST on Wednesday, October 7th

( that's 2:30 AM on Thursday morning for you Norwegians). That is the time of our doctor's appointment, and I very seriously doubt we will be keeping things quiet for much longer than that.

Enter the competition by leaving a comment on this post, specifying 1) if we are having a boy or a girl (those are your only options) and 2), which prize you would like.

Don't forget to tell me who you are, if it's not already obvious.

Once we know the gender, I will take everyone who guessed correctly and drop their names in an old-fashioned, impartial hat. Then a mostly unbiased judge (Nick) will pick the winner!

The winner will be announced with much pomp and circumstance, along with the gender of the baby, on Thursday, October 8th.

At this point I will begin making the chosen prize, and the winner will just have to wait patiently (with much pomp and circumstance!) for me to finish and present it to them.
Let the games begin!