Great TV
Last week tried to kill me. In addition to the awful cough I told you about, I just had ailment upon ailment pile themselves on until I submitted. It was not a good scene, but I'm feeling hopeful that this week is going to be better. I have managed to actually shower and do the dishes this morning, so things are looking up!
I didn't do a lot of
celebrating the everyday
last week, but I did wholeheartedly embrace some great television as I balled up on the couch. What's on your "can't miss" list? Here are the shows we set our DVR for: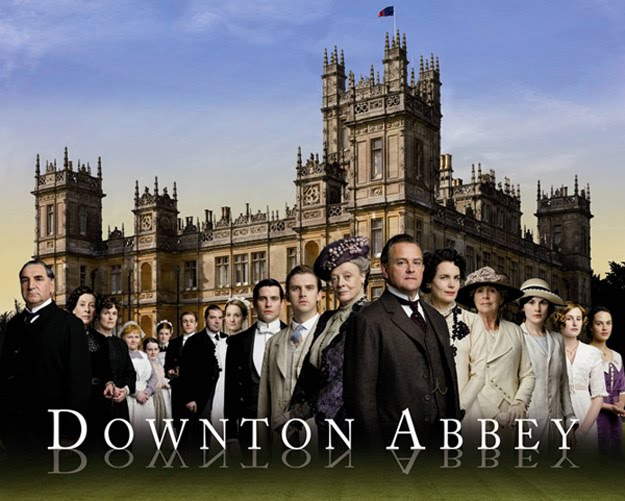 Image borrowed here.
Like everyone else right now, we are all sorts of into
Downton Abbey
. Am I the only one who wanted to yell at Matthew Crawley for the past couple of episodes? And I was absolutely heartbroken for Lady Edith. Surely she wouldn't be the first young English lady to be married off to some crusty old lord? The only difference is that she
wanted
to marry him, so why couldn't she? I hope the writers have something really good tucked up their sleeves for her, and soon!
Image borrowed here.
We always watch NBC's Thursday night lineup too. I've had a girl crush on Tina Fey for years (solidified by her Sarah Palin impersonations!), and we both love
30 Rock
. I think every woman over 25 can see a little (or a lot!) of themselves in Liz Lemon. I'm a bit sad that it's their last season, but like where they're headed. Now that Liz is married, let's hope they can have a baby! My guess is that they will adopt an older child, and then discover that the fertility treatments have worked and they end up with a baby too.
Image borrowed here.
Parks and Recreation
has surprised me by becoming the highlight of my Thursday nights. A lot of the humor is kind of low-key and understated, which I love. If you're not paying attention, you might miss the best part! The whole cast is great, and you only have to say "Ron Swanson" to make me laugh. Is it embarrassing that Leslie Knope is kind of a role model for me? While definitely a little (a lot) on the turbo side, she's so positive and just knows how to make things happen. I love that about her, and wish I was better at bringing out my own inner Leslie.
While I don't find it as funny as the earlier seasons, we're still watching
The Office
, and I like a lot of what they're doing with their last season. I miss Kelly, though! I hope they give everyone a great ending and leave it at that. No spin-offs, please!
And right now we're waiting patiently for the return of
Community
. I'm sure it will go down in history as yet-another-great-show-cancelled-before-its-time-by-NBC, but until then I will declare it sort of genius and laugh until I hurt. I love Troy and Abed!
Image borrowed here.
Another Thursday night fave is Big Bang Theory. Laughing at nerds is a longtime tradition in our society, and with nerds as sweet and funny as these guys, we're finally laughing for (mostly) the right reasons. Nick gets the science jokes, I get the "my boyfriend is a genius" jokes :)
Image borrowed here.
And we are still waiting for the return of Doctor Who. It was such a nerdy show when I was growing up, but now I keep finding out that all sorts of people love it. Even cool people, you guys! This is another show that both Nick and I love, which makes it extra fun when we can geek out over it in unison. All I have to say is that his new companion is going to have to work hard to make me love her like I loved the Ponds.
So those are our must-see shows. As parents of young children, we spend a lot of nights at home, and therefore watch a lot of movies and television, which means that you could add our Netflix queue as well as a selection of other shows we watch from both England and Norway to this list. It's not particularly glamorous, but great TV is one of the good parts of everyday life for us!
Now give me your list!