The 52 Week Organized Home Challenge
Because I seem to have developed a severe case of overachiever-itis, I have also signed up for
this
series of weekly challenges: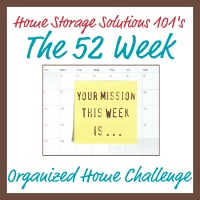 (Thanks, Janey!)
Every week they email you a an assignment for a different area to clean and organize, along with a guide for how to do it. I got the first one yesterday, and so hopefully by the end of the week I will have clean and organized kitchen countertops and sink! You can read about the first week
here
.
What I like about it is that it seems like each challenge is pretty reasonable, and something that you could definitely do in a week, if not an afternoon. It's hard for to take on huge projects because 1) I tend to get overwhelmed easily, and 2) with Espen around, my time is not usually my own. I mean, those trains aren't going to drive themselves! But a weekly chunk is something I can handle, so I am feeling pretty optimistic about it.
And even if I fall off the wagon and daily miserably, at least I will have gotten clean counters out of it. I can't lose!
------
Over to other things, how are my drinking buddies doing? It's taking some effort on my part to drink my 60 oz. of water, but it's not as hard as I thought. Remembering is the hard part! I think it just needs to become a habit first. It turns out that our tall drinking glasses hold 16 oz. if you fill them to the brim, so four glasses of water equals 64 oz! I just assume that by not filling my glass quite to the brim, I'm still getting at least my 60 oz., so I'm golden. For some reason, four tall glasses of water seems much more manageable than eight cups or even two HUGE cups.
So, my pro-tip for today is to measure your everyday glasses and see how many you need to drink in a day.
Other than that, I can't say I've noticed a lot of health benefits in the last two days (gosh!), but I have definitely noticed an increase in trips to the bathroom. TMI? Well, you try this out and see what your bladder thinks!
How are your New Year's Resolutions coming?